Concerned Tartan Alumni Association
After playing around with Google Maps, I discovered something disturbing about my former learning institute, Tartan High School. The is a following message that I posted on
Supper Flying Happy Hippos.
"Hippos" is a Yahoo Group that is made up of mostly Tartan HS graduates. I invite you to read the following that features my recent discovery and information about the Concerned Tartan Alumni Association. If you'd like to become a member please read the message for details on how to join.
Posted on Supper Flying Happy Hippos on April 14, 2005:
Through the break through of modern internet technology I have
discovered a shocking and gross flaw in the architecture and
building placements of our former learning institution. After looking
at satellite photos of Tartan High School on the Google Maps website
that I recently featured on my blog Stick Figure Pirates & Flying
Monkeys (www.jarheadjps.blogspot.com), I discovered that our great
high school from the air in fact looks like a male sexual organ, the
penis and testicles to be exact. I was at first embarrassed and
applaud that my former place of learning, where such moral values
are preached and practiced on a daily basis in fact was a large
contradiction to the great teachings of Tartan. I've taken the
liberty of posting my evidence of my discovery in the Photos section
of this club, they are listed in the album entitled "Concerned
Tartan Alumni Association." It was after that I zoomed out and
noticed that neighboring Oakdale Elementary's circular building
design was in fact part of the cruel and sophomoric attempt of
exploiting public education facilities to display gross sexual
behavior. If we all remember our ISD 622 history, Tartan HS was
designed and built after that of Oakdale Elementary, which was then
a half circle. One is to assume that Tartan's penile design was in
fact part of a large conspiracy between that of the ISD 622 board
members and 1960's architect's sick and warped intentions of cruel
entertainment.
This discovery has shook me so much to the point of creating the
Concerned Tartan Alumni Association, a group designed to alert,
educate and change the current aerial arrangement of the
Tartan/Oakdale campuses. Our ultimate mission to produce awareness
of this disturbing discovery and encourage change. I've already
taken the steps to alert via email the current Tartan Parent
Organization president, Bruce Stene to encourage him to use his
position to inspire change and educate others of our group and
ideals. Today I ask only one thing of you, your membership to this
association. If you need inspiration, I only ask that you view my
photographic evidence that is posted in the Photos section of this
club. To join you can email me at JPStene6004@webmail.winona.edu I
thank you for your time and I hope to see you as a member of this
important cause.
Jared Stene
President/Founder
Concerned Tartan Alumni Association
Photographic evidence of my discoveries:
Tartan High School of Oakdale, MN. Evidence of Tartan's penile design.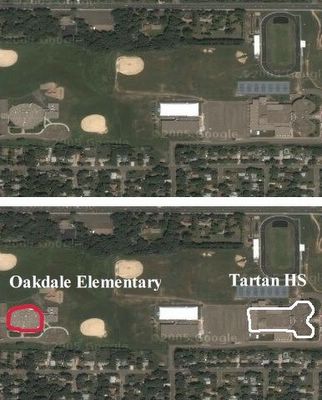 Campuses of Tartan HS and Oakdale ES. Evidence of the conspiracy behind the 1960's sick architecture.

Outraged?! Then join the Concerned Tartan Alumni Association today!
Bushism: "The Bob Jones policy on interracial dating, I mean I spoke out on interracial dating. I spoke against that. I spoke out against interracial dating. I support the policy of interracial dating." - CBS News; February 25, 2000
Link of the Day: Remember playing the game "Oregon Trail" in elementary school? Well you can play the hunting part of that game at
The Oregon Trail Online